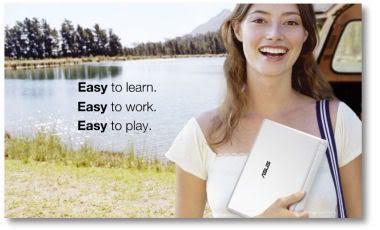 I had promised myself that I will close November with an article on.. Tiny laptops.
For the past two months, around 60% of my surfing was made up of looking for ultraportables. If it wasn't an ultraportable, it was another laptop in the 12 to 14-inch-screen range. I really don't like big bulky laptops, though I surely love huge screens. I started liking huge screens only when I was able to experience my cousins' 19" AOC monitor, and since then, in the back of my mind, I have been plotting how to get me a 17" MacBook Pro.
But that, and the 24-inch iMacs are the only exceptions to my "small is powerful" rule. Aside from those two and the ever-unreachable Mac Pro with the 30-inch Apple Cinema HD Display, I have this "thin and light" approach when it comes to my machines.
Blame it on Sayuri, because when back when I still lugged her around the metro, whenever I go home, I would have one helluva sore shoulder and painful back that I swore I would buy an eeePC.
But enough of the ramble, on to the pretty and small machines that are making waves today: the Asus eeePC, the Intel Classmate PC, and the OLPC Laptop.
First, we have the consumer success, Asus eeePC.
With the techies clamoring for it because Asustek announced its release in August, when it finally rolled out on the shelves on the 17th of October, people began snapping it up off the shelves and even from shopping channels in Taiwan. A local distributor actually has several batches of waiting lists just to fill orders! The eeePC website, on the other hand, claims to sell an eeePC every six seconds! So imagine the triumph that Taiwanese tech taipan Jonney Shih must be experiencing with this breakthrough product of his. The pricing, the engineering, the positioning, everything, is just pure genius; it's no wonder that it had become a success.
Starting at $340 per eeePC, and a market standard price of $399, with a configuration that includes a microphone, wireless internet and a video camera, it's no surprise that the eeePC is selling like hotcakes.
The reason why the eeePC is so cheap is that it makes use of a non-rotating drive instead of a conventional hard drive. They call this the solid state memory, which is not unlike the flash drives that your USB thumb drives are.
For its sheer design beauty and innovativeness, I'm actually dreaming and agonizing of holding one in my hands eventually. But since it's not Windows-based and I really think I may have no use for it, till, that someday, I remain, salivating, till I have some extra money to invest in that pretty thing. :p
Wait up for Part 2, where I compare the Intel Classmate PC with the OLPC XO-1.