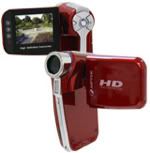 Lauryn Hill used to have a song that had the lyrics, "I used to love him.."
Well, I have an identical line for this baby; my wishes of getting it I sadly had to let go of: "I used to want you."
I had wanted this one, an Aiptek because, I gotta admit, her whore-y, glossy, scarlet look just called to me!
However, because of the poor quality of her shots, I had to say, "Goodbye to you…"
I had noticed, on a local buy and sell web-marketplace, that people move on from their gadgets because of one thing: they wanted to upgrade to the one with the better output that they had sights on in the first place.
So while you are definitely eye candy, Aiptek A-HD 720P High Definition Camcorder in yummy, whore-y, harlot red, I have to resist you…
Coz you're not irresistible enough for me. :p
(…though further research made me reconsider for a moment there…)
Samples of its pictures and video clips when you hit the "MORE" button.


beach one A-Hd from fishycomics on Vimeo.