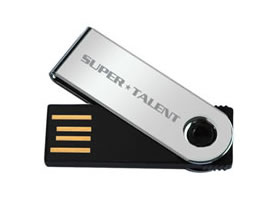 I've seen a technician quickly flip out Sony's version of a 2GB pico flash drive, but an 8GB  pico drive (?), wow (!), this is something really good!  Here's a quick blurb from their tech page at www.supertalent.com :
Pico Series USB drives are incredibly small and stylish flash drives offering up to 8GB data storage. Pico drives feature up to 30 MB/s (200X) transfer speeds. Measuring merely 1.50"x0.50", not only are Pico drives ideal for transporting data, digital images, and presentations, they are also the perfect accessory to adorn keychains, mobile phones, or wearing as a necklace.
Dimensions:
A: 38.7mm x 12.4mm x 3.9mm
B: 31.8mm x 18.8mm x 4.4mm
C: 31.3mm x 12.4mm x 3.4mm
Now as a regular flash drive user, I think this has a strong case for the tech-savvy.  You can literally carry a PC, with all your files, and your Open Source operating system… around your neck.  To the newbies, this means you are able to just plug in the pico drive to any PC and it can potentially boot up a new operating system for you, complete with all your proprietary system bells and whistles.
Price range for this gem is between $30-$35, US availability only.