If you've noticed lately, Friendster seems to be upping the ante to catch up to Facebook by adding those application widgets. I hadn't really been paying attention to Friendster, because it's just soo Web 1.5, PLUS, Multiply had become more my thing, because almost all my churchmates hang out there. But after the major migration to Facebook, and with people denouncing Friendster even on Friendster's own Bulletin Boards in favor of Facebook, Friendster seems to have made an about-face.

Friendster not only has "Apps" now, too, they also changed the layout and the navigation in the Photos area. They now have links that go back to the profile, photos can now be arranged in albums, and there are links that allow you to view the photos in Thumbnail layout.
The Photos area was the area that finally made me realize that Friendster was, indeed, trying to mature. Because though I had noticed the Apps and the several phases of layout revamps, I thought that these were cheap attempts to finally look Web 2.0. But when the Photos area experienced major changes, I sat up and took notice.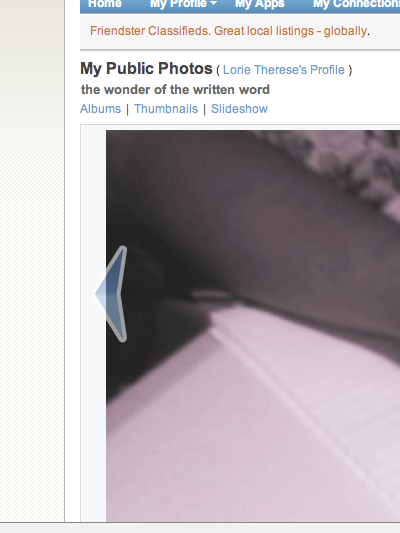 The Photos area now has this slick-looking arrow where you can rifle through your, or your friends' photos with greater ease. At first, I noticed that the Photos area had awkward linkbacks leading only to the Albums. Then they added the linkbacks to the Profile, and then the Thumbnails link was reinstated.
The changes are stark, and Friendster seems to be constantly experimenting. The changes have been so rapid, and Friendster just carries on , "Business As Usual" style, that even months back, I had seen my cousin's shoutout: "Has Friendster gone crazy?!" (Paraphrased).
But even then, I find it a happy, welcome change, that even Friendster is evolving. Yet even then, I am sticking to Multiply. :p