Speaking of geeks and salivation, I had come across a picture of my friend's boyfriend's computer setup months ago, but the writing of the article itself was put off after mounds of work, mounds of lifestyle stresses, and moving houses, rooms, and what-not galore. So here it is, for all the world to see, my friend's boyfriend's PC setup.
I actually thought that this looked so much like an alienoid thing, but I was more fascinated than weirded-out in a girly way. Though I could not relate to his and my friend's glee at his boyfriend's having "Reached the CPU and vid card temp that he's been targetting. So it rocks!" I sure could relate to the fact that this thing does look cool, and I do appreciate a great-looking tricked-out, pimped-out thing any time.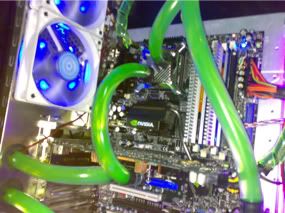 While gamers and hardware modders may love setups like these, I, on the other hand, just love great software. I love organizing, modifying and customizing my applications to suit me. But talk to me about a desktop setup as seductive as this one, and I'll give you a blank stare.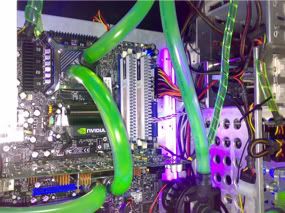 I would most likely choose a sleek-looking case, stable and durable innards, with brands that balance durability with affordability. But ever since I started using a laptop, I don't think I'll ever look back.
Neither will I ever go for custom-built lappies, unless they're from System76. I have heard enough crazy laptop stories to last me several lifetimes. I am only thankful that the first truly-mine laptop was a Mac that never gave me problems except for the lining starting to chip (which thankfully stopped), so I'm not too scared about getting another laptop.
But as for laptop scary stories, my friends have these:
My best friend who is now in Ohio had an ECS laptop whose keys got stuck and were rendered irreparable though the warranty still hadn't expired.
My other best friend, the one who brought me to the hospital the other week, bought a Neo last month. Since Day 1, she had gone back and forth from the computer store with one or some other problem. I doubt there ever was a week wherein her laptop was problem free. Just the other day, she had to claim it from the main service center in one of the malls here. Month-old laptop! Scary!
My friend/college classmate had problems with her laptop keyboard too. It was relatively new, she claimed.
Another friend, who bought a second-hand Dell, had a roach egg (or some other real-life bug) hatch inside it and consequently wreck his lappie. Ugh.
Thus, I had sworn, since then, that I would only buy a branded laptop. I am still contemplating on whether to get Japanese surplus over waiting some more weeks or months to get the cheapest Acer or Asus around. Hmm. Methinks I'll stick to the advice I dispense myself and actually just wait to be able to save up for a decent, brand-new Acer or Asus.
Though I'm really, really partial to the Acer gemstone series, because the rounded edges are just soooo cute, I'm still debating on whether the Asus would be more durable.
Till then, I remain, plotting and salivating. :p